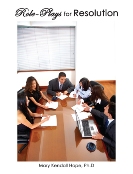 There is a new workbook now available which sets out to help those involved in conflict resolution prepare themselves for the real deal.
What better way to prepare for conflict then..... Role-plays!
Now whatever version of 'roleplaying' you might be thinking of, let me clear the air:
Role-Plays for Resolution is a workbook for training conflict resolution practitioners. Professionals from the fields of business, law, mediation, negotiation, arbitration and international dispute resolution may use this book to practice the skills needed to resolve conflicts. Students training for a degree or specialty in conflict resolution will find this a vital resource for exposure to specific subject areas.
Still interested? If so, the wide ranging topics of 70 role-plays will surely help those who are advocates of using role-plays in their trainings and for individuals interested in The same.
The book is available for $39.99. At the following link as well as amazon, Barnes and Noble among other sites.
http://www.strategicpublishinggroup.com/title/Role-PlaysForResolution.html
Enjoy!
By the way, in case anyone is wondering, this post was typed using an iPad.